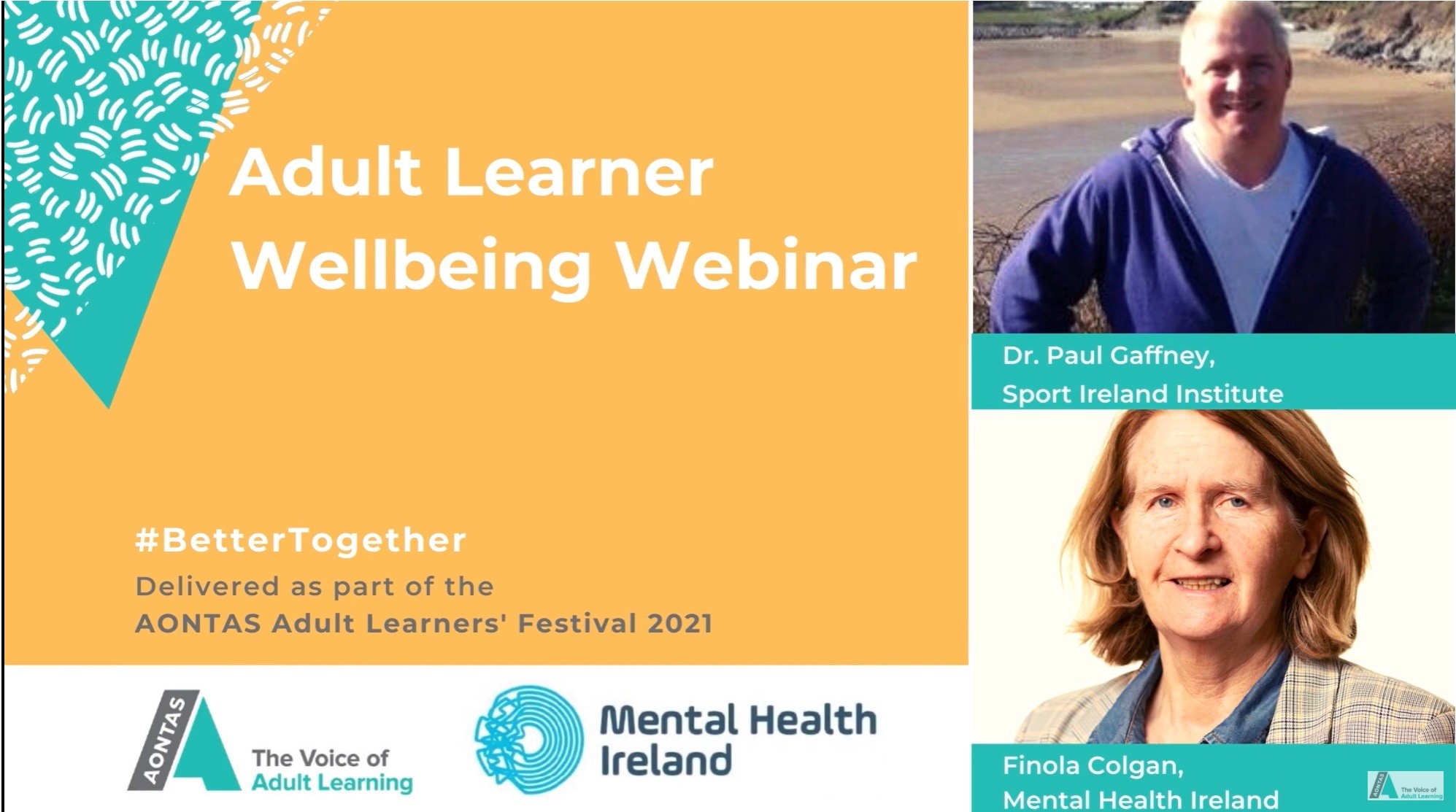 "The beautiful thing about learning is nobody can take it away from you." – B. B. King
Adult Education and Mental Health
Finola Colgan Development Officer Mental Health Ireland
It is possible that we may not attribute significant links between adult education and mental health. However, they have many valuable positive common links. Taking an everyday viewpoint about what is mental health, what emerges is that it has to do with the way we think and feel about ourselves and others, our confidence. Having good mental health can help us be resilient in our response to unexpected daily life challenges. Pursuing adult education and learning opportunities can yield many benefits to our mental health and wellbeing.
The World Health Organisation states that, "Wellbeing is present when a person realises their potential, is resilient in dealing with the normal stresses of their life, takes care of their physical wellbeing and has a sense of purpose, connection and belonging to a wider community. It is a fluid way of being and needs nurturing throughout life". Pursuing adult education opportunities can certainly support a person realising their "potential".
Mental Health Ireland through its membership with AONTAS was delighted to co-facilitate with Dr. Paul Gaffney, Lead Consultant in High-Performance Sport Clinical Psychology, a webinar on the theme of Adult Education and Wellbeing during the AONTAS Learners' Festival Week (1st – 5th March 2021). Adult learning supports personal development, lends itself to personal satisfaction and optimism about life. In addition, feelings of self-esteem, hope and purpose are enhanced through setting personal goals within adult education opportunities, and achieving them. Creating personal goals and targets will lead to personal achievement, which may include upskilling for better employment opportunities, workplace promotion or experience the satisfaction of taking up a new hobby. Although many of us are understandably left feeling uncertain and justifiably feeling insecure about life right now, we can make changes by pursuing adult educational opportunities.
As part of the AONTAS Adult Learners' Festival, they hosted this thought-provoking and informative session with Dr. Paul Gaffney and Finola Colgan, Development Officer, Mental Health Ireland. Paul explores the positive mental strength aspects that we can learn from the rise of Cavan GAA inter-county footballers and what adult learners can take from the unlikely Leicester City FC Premier League title win in 2016. He links these journeys of success to mental health and wellbeing. He suggests very many helpful things we can do to strengthen our resilience during the current pandemic and provides an excellent list of useful resources. Finola talks about and recommends supportive steps to enhance learning and accessing Adult Education opportunities. She presents an insightful presentation on how to overcome barriers in these challenging times through the use of the Five Ways to Wellbeing.
Please enjoy a recording of the webinar below.
For further information on AONTAS please visit: https://www.aontas.com/
For further information on Recovery Colleges – Recovery Education in Ireland please visit: https://www.mentalhealthireland.ie/get-support/recovery-education/