The Winter Solstice or Solstice Night, has a variety of different titles, depending on where you are from and what traditions you follow; some more names include hibernal solstice, Yule, Midwinter and The Longest Night. It is the astronomical first day of winter and falls on the 21st or 22nd December each year, marking the shortest day of the year with the least amount of sunlight hours. The term solstice comes from the Latin word solstitium, which means 'the Sun stands still'. On this day, the Sun reaches its southern-most position visible from Earth. This has made it significant in practically every country and culture since time began, with each place and people finding their own ways to mark the event.
Many of our Christmas traditions in Ireland are borrowed from ancient pagan winter solstice celebrations. The meaning behind these rituals is to let go of the dark and welcome back the light as each day after solstice grows longer and longer. According to Celtic myths, the solstice marked a great annual battle between the Oak King, representing light, and the Holly King, representing dark. The Oak King won each year at the winter solstice, allowing daylight to return slowly.
The Winter Solstice has been marked in Ireland for at least 5000 years. The Newgrange cairn was built over 3300 BCE and aligns exactly with the rising sun at solstice each winter. Take a look at this video which shows how our ancestors valued this time of year so highly that they created this spectacular monument to showcase the sun's arrival. This year on the 20th, 21st and 22nd December at 8:45 UTC you can watch the livestream of this event from Newgrange. This is a beautiful and unusual opportunity, as the chamber is usually full of people, but due to COVID-19, it will be empty and available for us all to witness online. Find out more here and stream live here.
Many see the Solstice, and Advent, as a time to look within, and seek ways to find our own inner light. Letting go and taking stock are great reflective themes to explore at the end of the year to help create more awareness, shedding light within. With this comes an insight as to what you might want to change, setting new goals for the year ahead. This can be done in many ways, through experiential activities, reflective writing, mindfulness or creativity, and it is worth taking some time to find out what works best for you.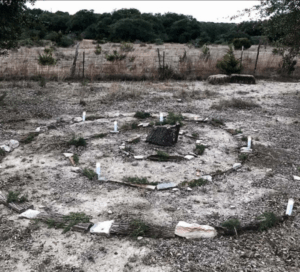 The winter or advent spiral walk is a tradition celebrated across the world by Waldorf schools to symbolise finding light in the darkness. 'As we celebrate the light, we must also take the time to spiral within to acknowledge our shadow self and the wisdom that it shares with us to bring the light of awareness into the darkness.' Celebrate Advent With A Spiral Walk – Rooted Childhood You can create a spiral walk in your own garden or even in your sitting room, lighting a candle when you reach the centre before making your way back outwards again.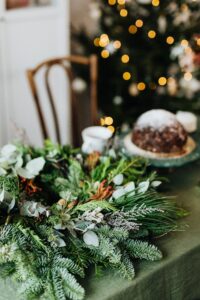 Creativity is great way to reflect while also making something beautiful; another solstice tradition we have borrowed is to decorate our homes with seasonal ornaments from outside such as our pine Christmas trees and boughs of holly. Yule logs, named after the solstice celebration, are a special log burned on the night of the winter solstice. This ritual symbolises the Sun returning and is kept burning all night as a symbol of light on the darkest night of the year. If you prefer baking, Yule log cakes are suitably named and made at this time of year.
Wreaths are another tradition from ancient times, symbolising the circle of life and light. Made from evergreens and decorated with cones and berries, wreaths were given as gifts in the past to symbolise the infinity of friendship, joy and goodwill. They are popular still, and you can make your own with items you collect along a walk. Simply tie it together with some string, add some decorations and hang it up with a bow. Look up Sweet Sage on Facebook for more ideas.
However you may choose to mark the solstice this year, Mental Health Ireland sends you every good wish for happiness, health, and good fortune in 2021.