Day 25
Happy Christmas to all from the whole team at Mental Health Ireland! We hope it is a a peaceful and enjoyable day for you. For some of us, this may not be the case. You can find a list of supports open today on the main Season's Greetings page. Today we have messages from special guests, poetry, music, a Loving Kindness meditation (may come in handy later) and an exploration of resilience, the type each and every one of you showed this year.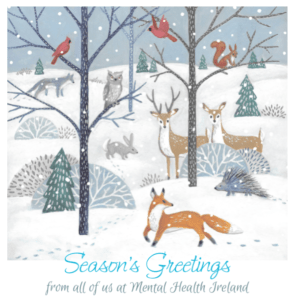 A message from Hugh Kane, Chairperson of Mental Health Ireland.

Christmas and New Year's Message from President Michael D. Higgins

A beautiful voice and a wonderfully generous soul, the talented Siobhan McAleese released a record in aid of Mental Health Ireland and The Pituitary Foundation Ireland during the year. Watch the stunning performance by Siobhan of Nella Fantasia below.

Teresa Keane reads 'This Christmas', a poem by Howard W. Hunter.

Take a mindful moment today by listening to this Loving Kindness meditation with Miffy Hoad. Whether it be from a competitive game of Cranium, a stirring of old emotions, or frayed nerves from a strange year, our frustrations with other people might rise up on Christmas day. Let Miffy help reground you so you can continue enjoying your day.

Exploring Real Resilience with Teresa Keane.