Make your pancake smile for mental health awareness
Mental Health Ireland promotes positive mental health and what better way to do that than with a smile. We are inviting you with your colleagues, friends and family to make your pancake smile on Pancake Tuesday, February 16th and to drop a donation into the donations box or text MHI to 50300 to donate €4 to Mental Health Ireland.
We are asking everyone eating a pancake on Pancake Tuesday, February 16th to have a bit of fun and dress it with a smile. To get involved in the #smileypancake campaign…
Make or buy your pancake…. We won't judge either way!
Make your pancake smile using fruit, Nutella, peanut butter, savoury fillings… the list is endless…. Get creative!
Post a photo of your #smileypancake to social media with the all-important #smileypancake hashtag
Donate what you can to Mental Health Ireland via text or in a donation box
If you are hosting a Smiley Pancake event in your workplace, school or home you can download your SmileyPancake_Fundraising_Pack now.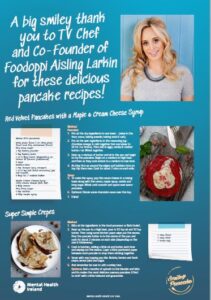 TV Chef and Founder of Foodoppi Aisling Larkin has kindly shared some of her favourite pancake recipes with a twist!
The money raised nationally will help fund Mental Health Ireland promote positive mental health and wellbeing in schools and communities via a number of projects.
Smiley Pancake Facts
Did you know…
A simple smile can boost our mood and creates a sense of wellbeing, releasing happy hormones such as serotonin and dopamine.
Smiling induces more pleasure in the brain than eating chocolate! One smile can generate the same level of brain stimulation as up to 2,000 bars of chocolate!
Smiling is contagious, and passing on positivity can increase feelings of wellbeing, boost our self-esteem and confidence and improve social connectivity during times of disconnection in personal life and our environments.
Smiling can protect our overall health. It can reduce blood pressure and boost our immune system. Furthermore, laughter and positive thoughts release signalling molecules in our brain that can fight stress.
Get Involved with Fundraising for Mental Health Ireland.
Your support enables us to continue our work in mental health promotion on a national and local level, to support youth projects around the country and to provide training bursaries for those in need.
Help Fundraise