In response to the COVID-19 pandemic, Mental Health Ireland are delighted to offer the Five Ways to Wellbeing during Tough Times workshop online. This is the first of a suite of workshops we will make available for online delivery.
The aims of the workshop is to support participants to:
Define what mental health and wellbeing is
Have an improved understanding of how you can look after your wellbeing during Covid-19
Explore how much time you spend each day looking after your mental health and wellbeing
Explore the application of the Five Ways to Wellbeing as a helpful coping strategy during tough times
The workshop runs for 90 minutes and is facilitated over Zoom or Microsoft Teams.
The workshop is available for workplaces and community settings.
Workshop Fees:
Workplace Groups: €180
Community Groups: Free
The max number of participants per workshop is 15.
If you have any questions or would like to book the workshop please contact us through the Register Your Interest Form below or email us by clicking the Email Training button.
Email Training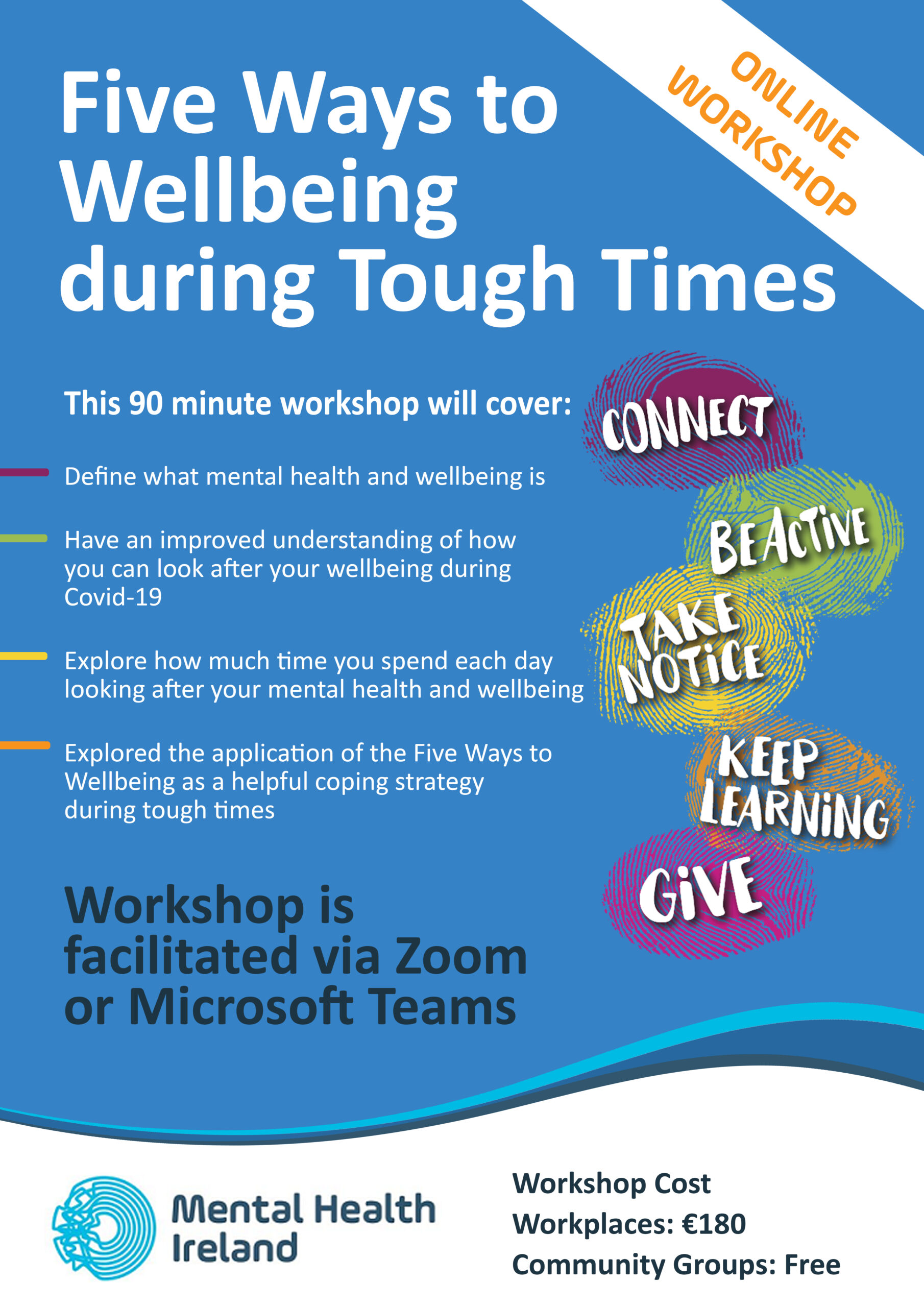 Online Workshop
In response to COVID-19 Mental Health Ireland have adapted their Five Ways to Wellbeing to be delivered online via Zoom or Microsoft Teams. The workshop is available for both community groups and workplaces.
In the Workplace
Mental Health & Wellbeing (Managers)
Mental Health & Wellbeing (Employees)
Five Ways to Wellbeing (For all Groups)
In the Community
Mental Health & Wellbeing (All Groups)
Five Ways to Wellbeing (All Groups)