Day 4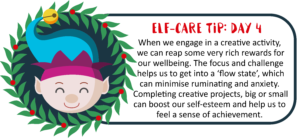 We were delighted to work with the very talented artist and illustrator, Dominika Stoppa, on our Creativity for Wellbeing Workbook this year. Dominika has a YouTube Channel called Creativity for Wellbeing, where you can colour along with Dominikka, learn about drawing techniques, and learn about creativity and wellbeing. Watch below for a sample and check out Dominika's channel.
Download these free mindful colouring pages by clicking on them. Happy colouring! Tag us in pics of your completed creations on social media for a chance to win spot prizes!
Have a browse through our recently launched Creativity for Wellbeing Workbook below. You'll also be listening to Recovery Educator, Poet and Musician Billy Clarke's beautiful song, 'Misty Morning Song'.