Mental Health Ireland has shared five simple actions we can all take to protect our mental health and maintain positive wellbeing during uncertain and challenging times. Check out the article below, watch the videos, and share the tips sheets.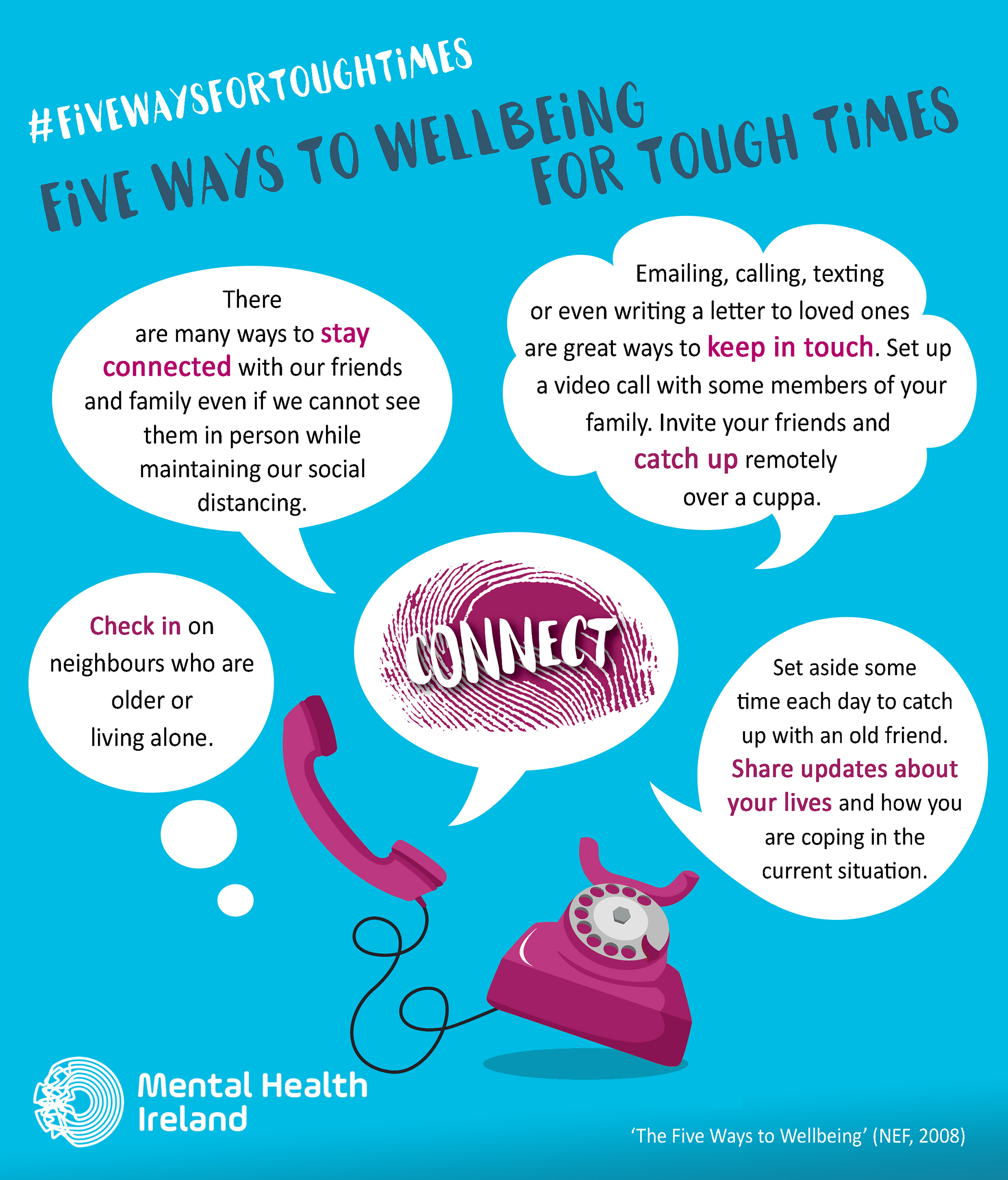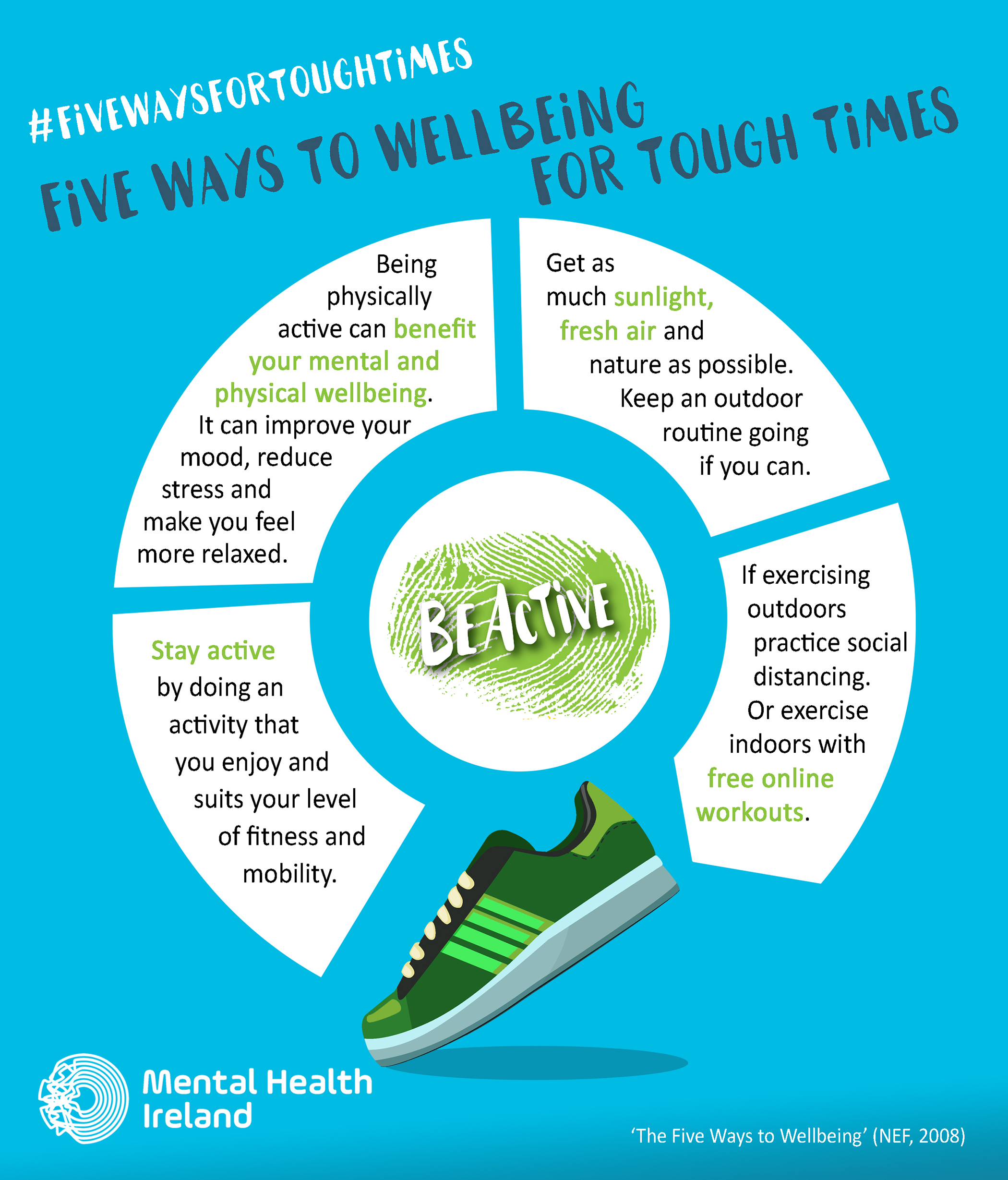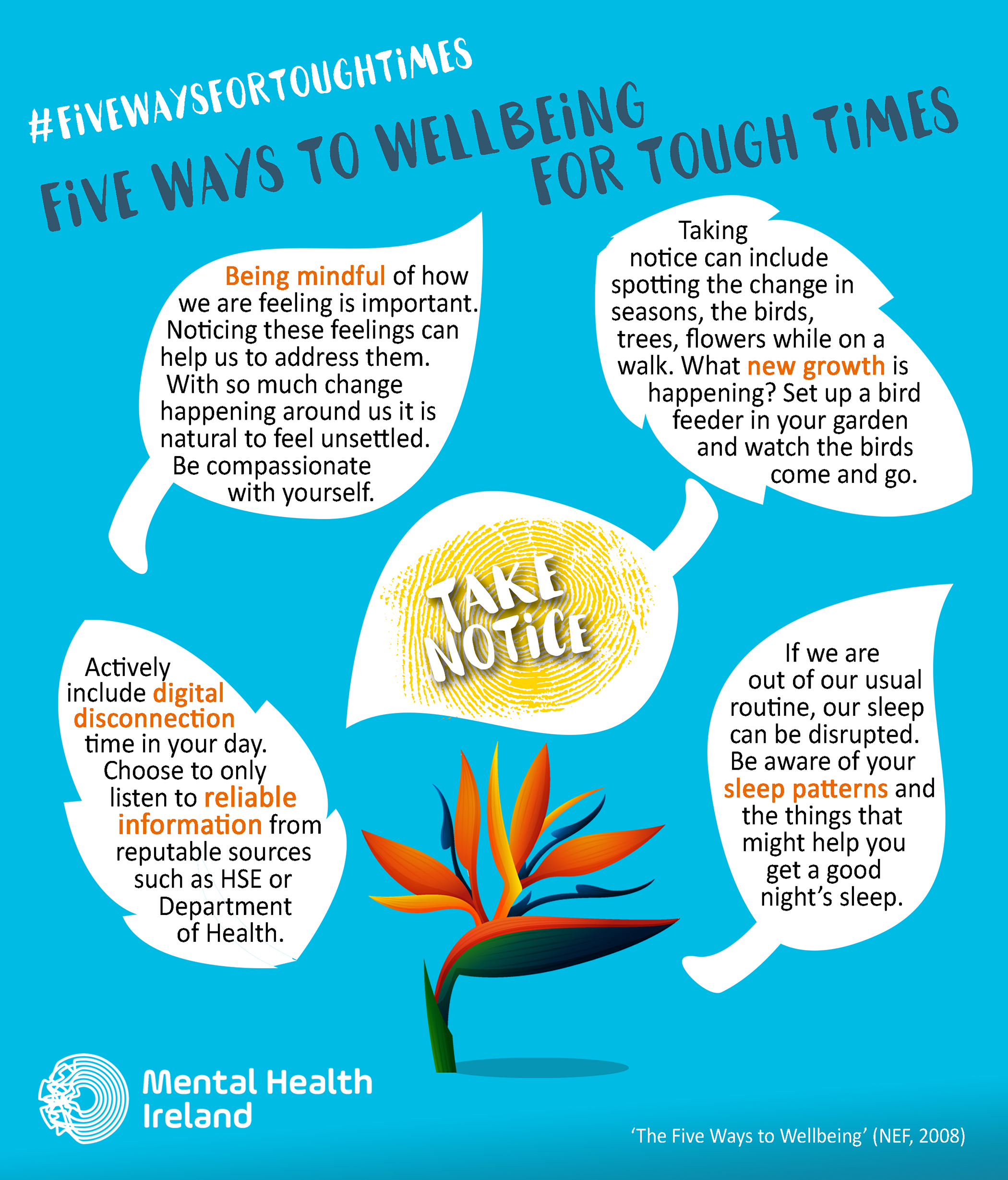 Find out how our Development Officers are incorporating the Five Ways into their lives.
Mental Health & Wellbeing in Tough Times
Midwest Radio Video Series
Mental Health Ireland are delighted to partner with Midwest Radio on a video and podcast series designed to support your mental health and well-being in tough times.
During the series Teresa Keane, Mental Health Ireland Development Officer for Mayo & Roscommon, will explore a range of topics related to mental health and wellbeing. Make sure to pop back soon for the latest videos.

Mental Health & Wellbeing Tips for Tough Times
We will get through this together. It's important for us to reassure ourselves and each other of this. The Covid-19 situation can challenge our mental health but we can rest assured that the supports we need are still there. The way we access these supports may require a temporary adjustment. We might need to put extra effort into looking after our mental health for a while. But we will get through this together. Right now it is important for us to remember to connect, communicate and reassure.
Although things seem out of control there is so much still within our control. Have a look at our video on how routine can support our mental health. Download our Routine Template here and fill it in to support your day to day activities.
Download the Connect, Communicate & Reassure Resource Pack here. The pack was co-produced by people with lived experience of mental health challenges, supporters, family members, the Office of Mental Health Engagement & Recovery and Mental Health Ireland.
As we adjust to our new stay-at-home realities & try to stay healthy in a time of Covid-19, improving our sleep patterns will offer protective and lasting wellbeing benefits. Read our Guide to a Good Night's Sleep here
Press play to watch Kelly Delaney chat about how to use routine to support our mental health
Download our Routine Template here
Guide to a Good Night's Sleep

A healthy sleep routine can be a big difference to how we feel and has great benefits to our physical and mental health. Whether you've had sleeping problems before Covid-19, or if they've only come on recently, there are clear action steps that you can take to improve your sleep and boost your health and your mood.

Minding Your Mental Health & Wellbeing as a Volunteer

"That's one small step for man, one giant leap for mankind." Neil Armstrong upon landing on the Moon 1969

Volunteers similarly take that one significant apparently small step which has immeasurable benefits for mankind.

Fostering alcohol-free healthy coping tools that will last beyond COVID-19

We have worked with Alcohol Action Ireland to share a set of advice guidelines to help people understand the risk of turning to alcohol during these tough times.
FREE ONLINE COURSES
IN RECOVERY &
MENTAL HEALTH

Mental Health and Recovery courses are being offered online by a range of recovery education services across Ireland. Have a look here.

NEW ONLINE RESOURCE FOR LOOKING AFTER OUR MENTAL AND PHYSICAL WELLBEING LAUNCHED

The Department of Health and Healthy Ireland have created a new online resource full of information on looking after your physical and mental wellbeing. Check it our here.

Still Here

We have all been asked to stay at home in response to the Covid-19 pandemic but for those who experience domestic abuse, home may not be the safest option. It is important that you know you are not alone – domestic and sexual violence support services from State agencies and the voluntary sector have been adapted and increased to ensure they remain available to support you, even during the restrictions which are now in place due to Covid-19. Restrictions on movement do not apply to a person escaping from a risk of harm or seeking to access essential services. Read more here
Talking to children and young people about COVID-19
The Department of Education and Skills has released some advice for parents and schools on talking to children and young people about COVID-19.
They suggest letting the child or young person's age and questions guide you as to how much information to give them. Young people are very aware of the recent restrictions to their lives and it is important to discuss the reasoning for this, with them.
read the full article here
There are many ways we can support loved ones who are experiencing mental health challenges. One of the best ways to start is with a conversation with your loved one. Connect, communicate and reassure!
Family Peer Support Workers can offer emotional support, information and practical tips on navigating mental health services. Contact the Office for Mental Health Engagement & Recovery or one of the network of recovery education services across Ireland for more info. The Recovery Colleges are also providing a range of online classes and group supports at the moment.
Guest Contributor:
Dr Colman Noctor
We are delighted to welcome Colman Noctor as a contributor to our page. Colman is a Child and Adolescent Psychoanalytical Psychotherapist. He has worked across a range of Child & Adolescent Mental Health Services both in Ireland and abroad and he has a wealth of national and international clinical experience. He is also a member of the Mental Health Ireland Board of Directors. In this article, Dr Noctor offers tips and advice on how to adjust to our 'new normal' in the home and within family life amid lockdown and Covid concerns.
Coping with Changes in the Home amid Covid
Colman Noctor
How everything about daily life has changed at once
Life for everyone has turned upside down and inside out. The result being a complete rearrangement of our value systems and much of which is unfamiliar and uncertain. The results are going to be different from family to family and person to person. Varying from deciding how best to arrange your home-schooling schedule to trying to decide to spend the last of your money on rent or food for your family.
read the full article here
For Further Support Contact The Samaritans
Samaritans is a unique charity dedicated to reducing feelings of isolation and disconnection that can lead to suicide. Every six seconds they respond to a call for help. They're there 24/7, before, during and after a crisis and they make sure there's always someone there, for anyone who needs someone.